Areg Alimian April 26, 2018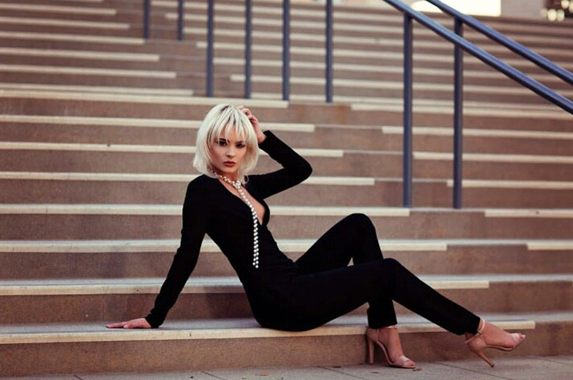 Times up...so power up in the Mellardi Power suit...
What a time to be a woman!  From the historical fashion movement that changed the red carpet forever - TIMES UP - all women attending the Golden Globes wearing black.  Even across the nation women were joining in wearing black on that day.  I found myself surrounded by so much inspiration, to see so many women supporting women, to see us all standing up for ourselves, each other and using fashion to shout our unity and conviction to the world, wow...
It is the year of the woman, the generation of the girl...yes, the future is female.  Even the Women's March across the country, was exploding with fashion styles that spoke to the heart, but the most emotional was the gathering of women in powerful white suits on stage at the Grammy's, joining pop star, Kesha's, performance..
Fashion is the most important statement to make...and the pant suit is here to make that statement...
When I created my signature Mellardi One Piece, I admit I had power on my mind.  I envisioned a powerful woman wearing my design and that transferred into the structure and the form of what would become a classic for my brand.  Suits are back, tuxedo suits, double breasted jackets, vests, everywhere you look, a woman is turning heads on and off the runway and the red carpet in some type of pantsuit. 
The Mellardi One Piece has taken off into many different renditions to go from the office, the conference room, the podium, the cocktail hour and the red carpet.  Powerful women will constantly be on the go, they need fashionable pieces that will interchange with the demands of their day...
Fashion is about to see its most exciting time yet and I am honored to be launching my brand in this season of change.  Coming to this country, English was not my first language but the love and passion to make my dreams come true here, motivated me to learn, faster and better then I ever thought I could.  While English may not be my first language, fashion is and it seems to be the same for all women, around the world...You are what You wear...
Keep winning women!
Be beautiful...Be powerful...Be Mellardi...
xoxo
Maria